Do
you love playing Racing Games? This week Apple Store has highlighted a game
Ridge Racer Slipstream
by Bandai Namco Inc. as
'Free
App of the Week'
this week that means you can download and
enjoy at no charge(free).
If you miss to download 'Free App of the Week'
Ridge Racer Slipstream
now, you will be charged as a
regular price $2.99. So hurry up and grab car racing game for iPhone, iPad for
free. This app download is valid till this week for 7
days only. So once you download this app from App Store, you can use
it forever for free.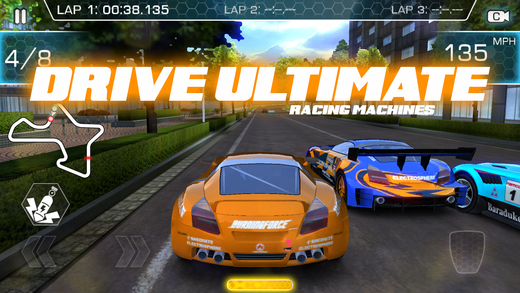 Ridge Racer Slipstream
, Apple's free app of the week is
a the ultimate arcade racing franchise brings the console experience to your
iOS device! Slipstream past your rivals and drift around tight turns at over
150 MPH!
From
the App Store Editors' Notes:
Take
to the road in an arcade racer where drafting, drifting, and well-timed nitro
boosts are key to a first-place finish. Solid handling makes driving a
white-knuckled joy, while 10 gorgeous tracks and multiple game modes will keep
you hooked for hours on end.
This
app is designed for both iPhone and iPad and is compatible with iOS 7.0 or
later.