This week Apple Store has highlighted a game
Little Kitten
by Fox and Sheep as
'Free App of the Week'
that means you can download and enjoy at no charge(free) this week. If you miss to download
'Free App of the Week' Little Kitten
now, you will be charged as a regular price $1.99. So hurry up and grab this game for iPhone, iPad for free. This app download is valid till this week only. So once you download this app, you can use it forever for free.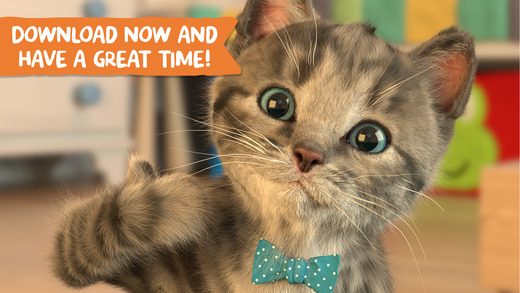 Little Kitten , Apple's free app of the week
is every child's
dream – a cheeky, funny and adorable little pet. Take a ride on the airplane,
shoot some hoops, play hide & seek and bed trampoline or get creative with
paw painting – you can always have a great time with your best kitten friend!
Explore the kittens world and discover cute animations, laugh with and care for
your sweet furry pal.
The unique game-design encourages children to explore the room with minimal use
of icons or menus. The 6 mini-games offer a wide variety of interactions and
are designed so they appeal to a wide age range. The philosophy is not about
winning, losing or competition, it's about having fun in a child friendly
environment and learning without even realizing it! Great Mini-Games with
purpose!:
From the App Store Editors' Notes:
The moment we met wee kitty Crumbs in
Little Kitten, we let out an audible "Awww." This adorable digital feline
encourages children to play and explore, interacting with the lively toys and
simple games in Crumbs' room. We're amazed by the cinematic animation, and
appreciate the sleep timer that sends Crumbs to bed when our kids' screen time
is over.
Take a look the demo of
Little Kitten ( Free App of the Week)
;
This app is designed for both iPhone and iPad and is compatible with iOS 9.3 or later.
Little Kitten
is available for download in the App Store for free for a limited time.