Good news for all! The wait is over. UnC0ver has launched jailbreak for iPhone running iOS 12-12.1.2. 
If you are running iOS 12-12.1.2 then, we are going to guide you on how to Jailbreak iPhone using Unc0ver app with and without a computer.
But before that, make sure you backup your device on iTunes or iCloud and is highly recommended to turn on the Airplane Mode and turn off Find my iPhone before attempting the jailbreak.
Compatible devices for Unc0ver Jailbreak on iOS 12-12.1.2
iPhone 5s/iPhone 6/iPhone 6 Plus/iPhone 6s/iPhone 6s Plus/iPhone SE
iPhone 7/iPhone 7 Plus/iPhone 8/iPhone 8 Plus
iPhone X/iPhone XR/iPhone XS/iPhone XS Max
iPad Air/iPad Air 2
iPad Pro 12.9, 1st-Gen/iPad Pro 12.9, 2nd-Gen/iPad Pro 12.9, 3rd-Gen
iPad Pro 10.5/iPad Pro 9.7/iPad 5/iPad 6/iPad Pro 11-inch
iPod touch 6
How to jailbreak iPhone on iOS 12-12.1.2 with Unc0ver
Method 1 [Without Computer]
Go to Safari and search URL: Jailbreaks.fun
2. Tap on the Next tab aside to Home icon and tap on Jailbreaks with blue unlock icon.
3. Scroll down or search for Unc0ver – new beta and tap on that and install the Unc0ver app.
4. Now you will see the Unc0ver app on the Home screen.
 5. To run the Unc0ver app, you need to trust the profile by going into the Settings → General → Profiles & Device Management to trust the Unc0ver profile. You can see the screenshot below.
6. Now open the Unc0ver jailbreak app and tap on Jailbreak button. It will take some time to complete the process and note that your device will respring and will have to tap jailbreak again until the process up to 38th is complete.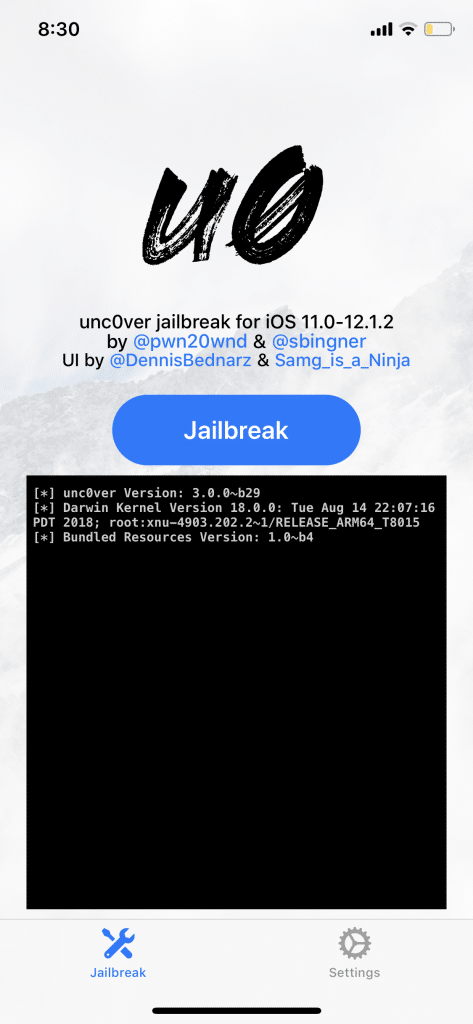 7. After the respring, your device is successfully jailbroken and you can find the Cydia icon on homescreen.
Method 2 [With Computer]
How to Jailbreak iOS 12-12.1.2 with Unc0ver IPA and Cydia Impactor
1) Download the unc0ver IPA file from Pwn20wnd's GitHub page.
2) Download Cydia Impactor, extract it and launch Cydia Impactor.
3) Now Connect your iPhone, iPad, or iPod touch Lightning USB cable. "After you plug in the device, Cydia Impactor should recognize".
4) Simply, drag the downloaded unc0ver.ipa file to the Cydia Impactor as in the screenshot;
5) Next, when prompted, Sign in with your Apple ID and Password
6) It will now side-load the unc0ver jailbreak app on your iOS device homescreen.
7) Once installed, go to Settings → General → Profiles & Device Management to trust the unc0ver profile.
Note: Before jailbreaking iPhone with unc0ver, enable Airplane Mode, disable your passcode/Touch ID/Face ID, disable Siri. 
9) Now tap on the Unc0ver app icon from your Home screen
10) Next, tap on the blue Jailbreak button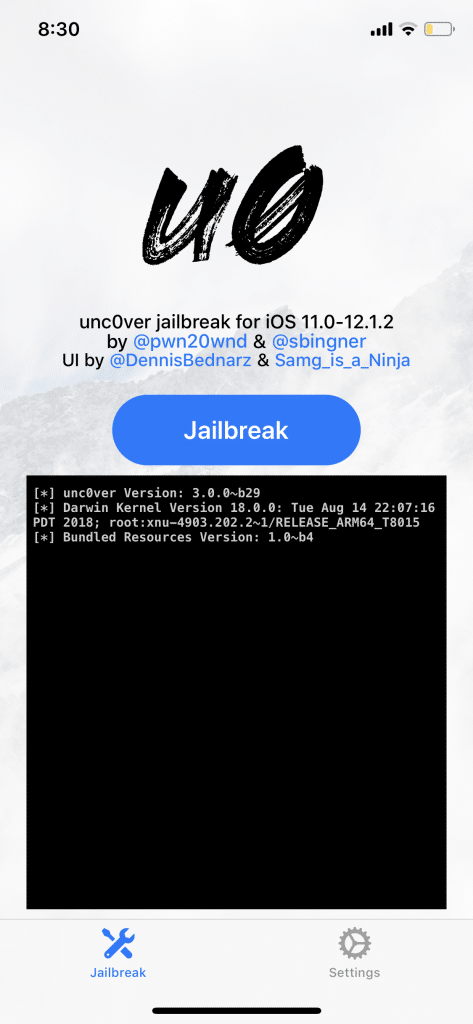 Note: the tool will begin jailbreaking your device; it should respring afterward.
11) It will now begin jailbreaking your devices and respring and finished, you'll find Cydia on your Home screen as in the screenshot below;
Voila! You now have a successfully jailbroken your iPhone or iPad with Unc0ver with or without Computer running iOS 12-12.1.2. Now you can install your favorite jailbreak tweaks.
Note: Apple has Stopped Signing iOS 12.1.1 beta 3 so below downgrade process does not work.
What if you are on iOS 12.1.3 or 12.2?
If you're on latest iOS firmware iOS 12.1.3, 12.2 that does not support unc0ver jailbreak for iOS 12 – iOS 12.1.2, then you can downgrade to iOS 12.1.1 beta 3 as it is currently being signed by the Apple.
iOS 12.1.1 Beta 3 IPSW file for your iPhone
Now lets downgrade to iOS 12.1.1 beta 3 & proceed for jailbreaking
After the successful download of iOS 12.1.1 beta 3, let us follow these steps;
Step 1# Upgrade or download iTunes to the latest version on your Mac or PC.
Step 2# Now Turn off Find my iPhone & disable passcode lock via the Settings app. (Settings > Account Icon > iCloud > Find my iPhone).
Step 3# Launch iTunes & connect your iPhone, iPad & iPod Touch using a Lightning USB cable to your computer.
Step 4# Hold the Alt/Option key on the Mac or Shift Key in Windows on your keyboard and click Check for Update option.
Note: IF YOU WANT TO FRESH INSTALL THEN GO WITH RESTORE OTHERWISE UPDATE IT.
Step 5# Now Select the signed ipsw iOS 12.1.1 Beta 3 file you had downloaded earlier
Step 6# iTunes will inform that it will Update your iPhone to the iOS you have selected
Step 7# Then click on the Update.
After that, your device will reboot to the Home screen and you will see iOS 12.1.1 Beta installed on your device and you are ready to Jailbreak your iPhone. Just follow the above method 1 or 2.
Thank you. Let us know in the comment if you have any issue.
Related:
Best Compatible Unc0ver Cydia Tweaks for iOS 12-12.1.2
Best Cydia Sources/Repos for jailbroken iPhone