Apple releases iOS 13 and iPadOS 13 for public testers and before its official launch, Apple allows users to participate in molding Apple Software by being as a member of the Apple Beta Software Program with the Signup option.
With the sign up to Apple Beta Software Program, you'll be able to enroll your devices to access the public betas iOS 13 beta and iPadOS 13 and try out the latest features on iPhone and iPad.
When Apple releases any public beta version, you are not allowed to install it directly with the Software Update option via OTA mechanism.
You need to sign up and enroll your devices with the Apple Beta Software Program to install iOS 13 on iPhone or iPadOS 13 on iPad or MacOS or tvOS.
How to Sign Up for Apple Beta Software Program?
#1. Go to beta.apple.com
#2. Tap on the Sign-Up button if you don't have an Apple ID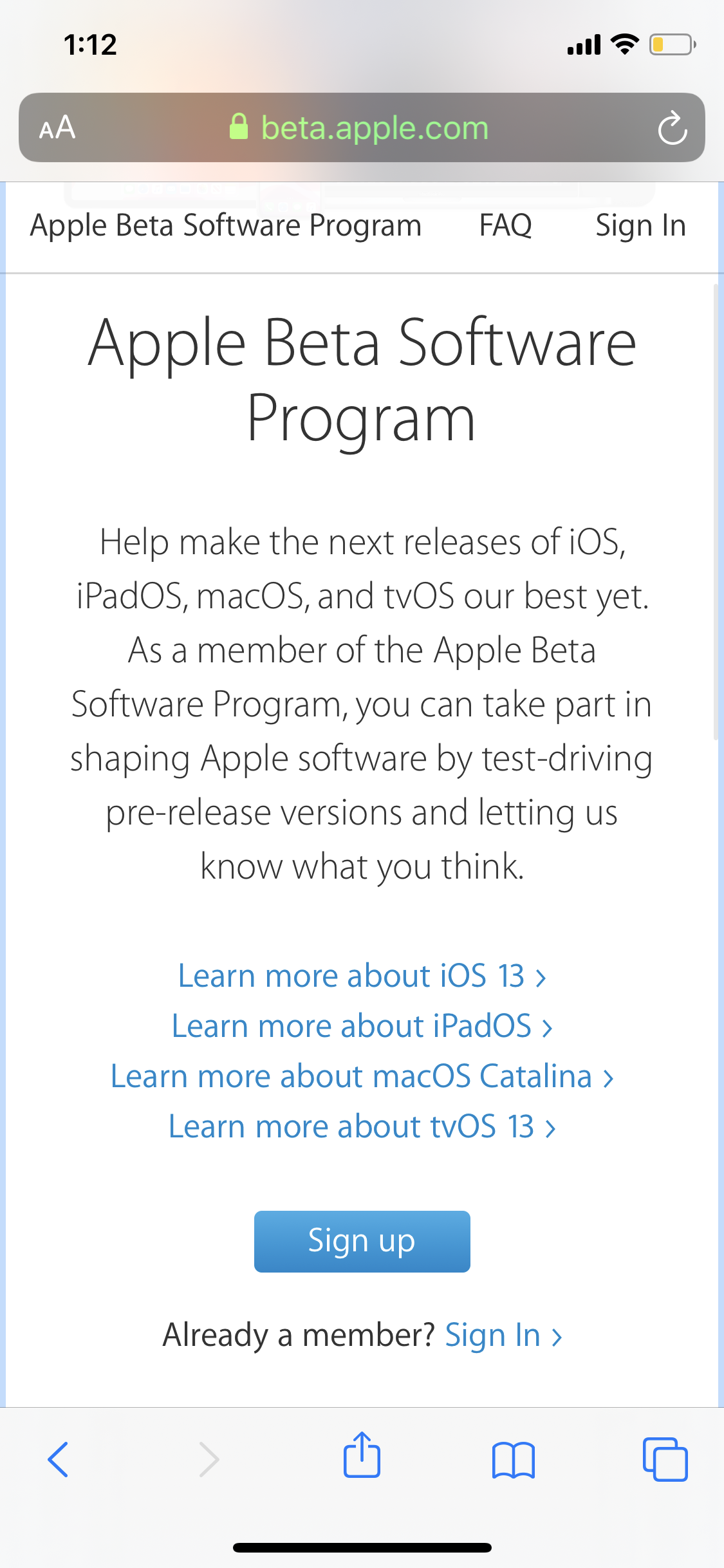 Or Tap on Sign in button and Enter your Apple ID & Password
#3. It will redirect to the Apple Beta Software Program page where you can see the update of macOS, tvOS, iOS, iPadOS.
#4. After you Signed In, choose iOS and tap on Enroll your device to install the configuration profile and tap Download Profile. Your iOS device will notify you when the profile has been downloaded
#5. After then, open settings, tap the profile and follow the onscreen instruction to allow installation.
How to install and update your iOS device to iOS 13 beta?
Once the beta profile is downloaded with the above steps, Go to Settings > General > Software Update to install iOS 13 beta software.
VERDICT
Installing beta version is being hard for the users sometimes, so with the sign up to the Apple Beta Software Program, users can now test the iOS 13 public beta with the configuration profile downloaded on their devices.
Check more:
How to Cancel Auto Subscription of App Purchase on iPhone, Mac/PC(Opens in a new browser tab)
How to Switch WiFi Networks From Control Center in iOS 13(Opens in a new browser tab)
How to enable dark mode on iOS 13
How To Edit And Add AirPods To Your Memoji on iOS 13 
How To Activate or Deactivate Low Data Mode in iOS 13 
How To Access WiFi & Bluetooth List With iOS 13 Control Center(Opens in a new browser tab)