Losing files from iPhone is easy if the device gets lost/stolen, damaged or crashed with some circumstances. You don't want to lose important files, photos, videos and other necessary things from your iPhone right? The easiest way to not face this kind of issues ever is to backup your device daily but manually backing up the iOS device may not always be the choice. Because it takes time and too boring as it requires to connect the device to the computer, launch the iTunes and then wait till the backup finishes.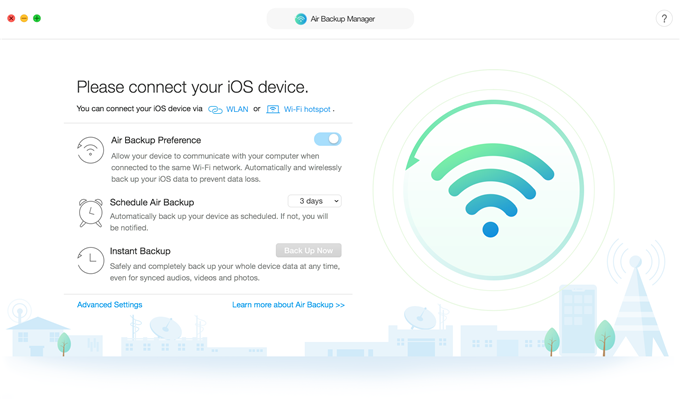 But now you are going to get rid of manually backing up the iOS device forever with AnyTrans Air Backup feature that wirelessly backup your device with the use of the WiFi. Why it's the best alternative to wirelessly backup the iOS device is you don't even need to launch the software. All you need to do is turn on the computer and boom, it automatically starts backing up your iOS device instantly. Only make sure that the iOS device and the computer is connected to the same WiFi network.
Note: if users use Air backup feature for the first time, he/she needs to launch the AnyTrans software and make a setting as needed.
You can schedule backup for Daily, within 3 Days or Weekly and you also have the option to choose the backup location which iTunes does not offer. AnyTrans can handle any kind of iOS data such as iMessage, photos, videos, and many more.
Don't Miss: How to Backup Contacts on iPhone in 3 Ways
It is a great idea to make a daily backup of the iOS device because there is always new things added on the device every day and we don't want to lose single data from them. And it's easier to back up the device than ever as there is nothing to be applied in order to start the process. Just turn on the computer – connect the computer and iOS device to the same WiFi network and done! Everything is automated.
The backup process via WiFi is secured as it is encrypted with an extra layer of AES-256 encryption via your local SSL-secured WiFi so there is nothing to worry about your device's information being lost or stolen.
The features of AnyTrans does not stop here. There are many more useful features of AnyTrans that iTunes does not offer. It is a complete stop to an iOS device manager that helps to manage iOS devices, works as an iCloud manager, also very helpful to create a ringtone, media downloader, and can also move data from one device to another. There is also an option to transfer data from Android to iOS on AnyTans which is a must-have.
AnyTrans is available to download for free for both Windows and Mac. If you need additional features then there is also a premium version for $40 which you can upgrade later on.
Download and give it a try now and let us know what you think about this awesome iOS device manager software?